| | | | |
| --- | --- | --- | --- |
| FHAG organizes second AGM | | | |
Tuesday, 24 May 2011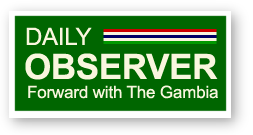 Thursday, March 10, 2011
The Foundation for Humanitarian Aid Gambia (FHAG) recently held its second Annual General Meeting (AGM) at the Bini's Bar and Restaurant in Senegambia.
The foundation is a non-governmental organization with the aim to help alleviate poverty and contribute immensely towards the educational, health and agricultural sector by building schools, giving out scholarships to needy and outstanding students, building health centres and also providing gardens with garden tools to help promote self-sustainability.
In his opening remarks, Arthur Aalst, the chairman of the Foundation, highlighted the activities of the Foundation since its inception. Education, he said is still not available for each and every child and so is health care. "Even today many children die because of lack of adequate basic health care," he lamented. Citing the millennium goals that have been conceptualised in the year 2000 and countries all over the world are tasked to attain by 2015.
Aalst asserted that there have been a lot of improvement in the country as more children go to school, more health centres have been built, the awareness for the importance of agriculture and women empowerment increased. He then disclosed that his organization is working together with the ministries of Education, Health and Agriculture. "We have a strong belief that only by working hand in glove, that the efforts will give maximum results; failure and mismanagement will discourage our donors and sponsors," he observed. On behalf of the board of FHAG, he commended the government for their endless commitment and time they spend for the organization.
For his part, Momodou Dibba, Director of NGO Affairs, at the Office of the President, commended FHAG for their endeavours to complementing Government's efforts. He said that the NGO Affairs is a government arm established to serve as an administrative link, coordinate and monitor the operations of NGOs in the country and to advise government on NGO matters.
He revealed that Government has established a planning institution to help them know how much is coming from the NGO sector. "Without information we cannot develop," he said. He stated that an enabling environment has been created for NGOs and partners in development to achieve their goals. "Your organization is really complementing Government's efforts in its key sectors such as health, education and agriculture," Dibba remarked and assured them of their support.
Presentations of projects initiated by FHAG were presented and representatives from different parts of the country discussed their challenges, achievements and way forward.

Author: by Fatou Jallow
http://observer.gm/africa/gambia/article/fhag-holds-second-agm

A complementary article in "The Point" can be found HERE.