Nafugan garden
Nafugan garden, which is a project sponsored by the Belgium division of the Foundation Humanitarian Aid Gambia, is a continuing success. At the moment the wells at the garden are being enlarged, thus ensuring continuous water inflow.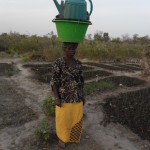 The project itself is under the supervision of the responsible FHAG Board Member Momodou S. Kamara and is being carried out in cooperation with the Gambian Government.
Momodou S. Kamara: These women are determined and willing to work very hard to produce crops for their survival.
They rely on FHAG, the Gambia Government (MOA) for support and especially the expertise of Agricultural Extension Services.